Weddings and Elopements
A wedding is such a magical event and for many, one of the most special days of their lives. The ceremony is the heart of the wedding.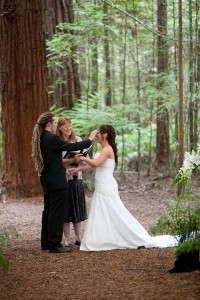 My aim is to listen to what you want, guide you if necessary, support you in getting the ceremony you desire and to create wonderful memories of your special day.
In close consultation with you, I will help you design a unique and personalised ceremony, which fits any theme you may have.
Together we will design your ceremony to incorporate your wishes, so it reflects your personalities, backgrounds and values.
There are few 'musts' in a wedding ceremony, so you have a great amount of choice when it comes to designing your ceremony. It can be formal and intricate or casual and simple. You may want to include some special ceremony elements, such as a candle, sand, rose or hand fasting ceremony, or a symbolic activity – E.g. planting a tree, releasing doves, butterflies or blowing bubbles.
It is great to include some personal stories in the ceremony such as how you met, the proposal and share the special qualities you see in the other.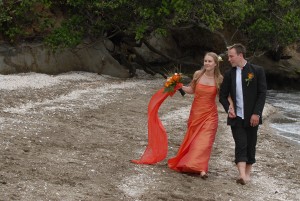 I will usually meet with you  at my home in Kumeu to discuss your wedding. If distance is an issue, ceremony planning can be done via Skype, phone or email.
Some couples don't know where to start with a ceremony, so I am happy to offer ideas, suggestions readings and vows.
If you have no idea what you want and wording is not crucial to you, I am of course able to offer a beautiful simple standard wedding with a selection of vows or you can write you own.
A rehearsal at the venue before the big day is not essential, (especially if your aim is for an fun informal atmosphere), and I can often 'talk' you through a rehearsal. In saying that, if there's a large wedding party, or you really suffer with anxiety, a rehearsal can often ensure a smooth flow of proceedings on the day.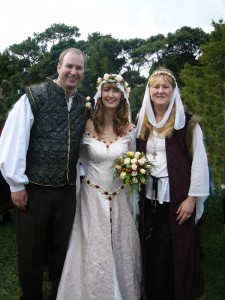 Usually couples have a venue organised for their special day, but if not, I'm happy to recommend some lovely venues around West Auckland, which is well known for its stunning scenery and beaches.
For an additional fee, I also have a wonderful garden area at my home suitable for an intimate – medium sized wedding (for up to 35 people) There's also a covered Mediterranean courtyard as a wet weather alternative.  See the 'Casabella as a venue' page.
I can even provide witnesses (at a small cost) if you are eloping or are having a private ceremony with no guests. For ceremony and venue costs look at FAQ page.
Over the 500+ ceremonies I've been involved in, I've picked up a few ideas.
Here are some tips I've put together for a great wedding.
Tips for a great wedding
For further information on the legalities of getting married in New Zealand and how to apply for a marriage licence (which is your responsibility) go to:  marriages.services.govt.nz
Registry Weddings
A personalised ceremony isn't for everyone.  Maybe it's because of time frames, finances, ill health, because you're super shy or you're not into crowds watching while you profess your love to each other. Maybe your plan is for a big overseas celebration at a later date. Whatever the reason, some couples just want a legal ceremony, end of story. There's no judgement here.

Did you know that during 2019 and 2020, Births Deaths and Marriages (BDM) rolled out changes throughout New Zealand and they stopped doing Registry Office weddings themselves? That's right!… no more travelling in to the city, or to a courthouse, to have a legal Registry office ceremony.
Instead, BDM have now designated approved and verified Celebrants (yes, I'm one of them) to officiate these small, simple, legal wedding ceremonies on their behalf.
Between them, the couple and the celebrant, will negotiate where the registry wedding will take place. (The intention is that the celebrant won't need to travel far.)
So if you're within 10-15 km of me, just want a brief, legal ceremony on a weekday, with no frills, no rehearsal, a set script and you have less than 10 people attending, give me a call. I can help. xx