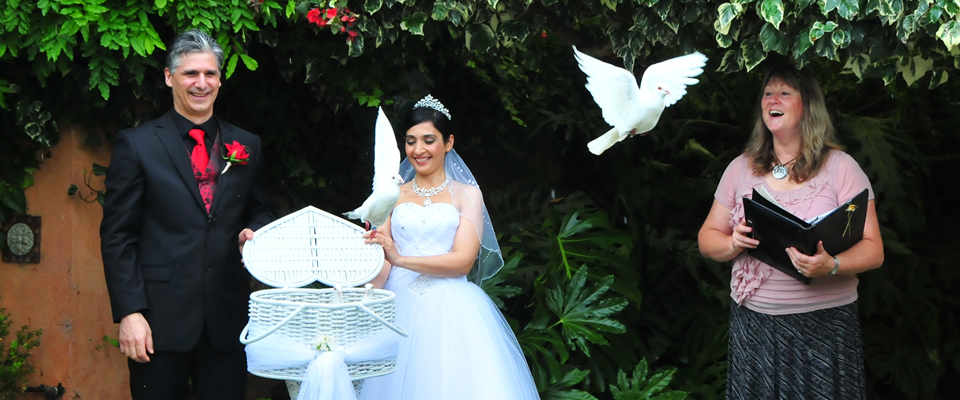 'Casabella' – A Unique and Private  Ceremony Venue
Welcome to 'Casabella', my home and a unique country Wedding or Civil Union ceremony venue.
Planning an intimate Wedding or Civil Union but still pondering over where to have it?  You want to be married somewhere with a lovely garden, has a wet weather area and isn't too far from Auckland CBD. It has to be great for photos, and affordability is an important factor too? I have the perfect solution!
We are fortunate to live on an idyllic 10 acre property, 5 mins drive from Kumeu village.   It is aptly named 'Casabella', meaning 'Beautiful Home'
Casabella has a Mediterranean feel and is a mix of established gardens, orchards, woodlands and open fields. There is even a small lake with jetty, friendly ducks and a 'Hobbit' door. Casabella is perfect for an intimate – medium sized ceremony of up to 35 people.
At Casabella there are two specific grassed wedding areas, each with a gazebo and surrounded by mature trees. A signing table, sun umbrellas and some seating for guests are all included.
Alternatively you may like to get married by the pool, in the covered courtyard, in the apple orchard or on the expansive hilltop overlooking a rural scene. (All are fabulous for photos)
If you are thinking of eloping, I can even arrange witnesses. You can take your time and decide on the day where on the property you would like to exchange your Vows.
There is also a preparation room for use by the bride/bridal party.
Check out the photos of Casabella below, or see the video of Casabella on the Home page. 
'Casabella' Private Venue – Preview Gallery
Some of the advantages of using Casabella over a park or beach include:
√  Guaranteed privacy
√  A wet weather option at the same venue (the covered Mediterranean courtyard)
√  Clean bathroom/preparation facilities
√  Availability of power for your devices
√  A signing table and chair.
√  Preparation or 'dressing' of the area with candles and tablecloths.
√  Seating for 8-10 guests
In Auckland the weather is often changeable, so Casabella has a lovely covered Mediterranean style courtyard as a wet weather alternative. You could even have an evening ceremony here if you wish.
The venue cost, which starts from just $500, includes the use of candles, tablecloths, signing table, sun umbrellas etc.  Naturally I would be your celebrant, and my normal celebrant fee also applies. See my FAQ page for pricing.
Please note that as Casabella is our home, it is available only for your ceremony use (in a similar way that a church is usually just used for the ceremony). Casabella is not available for the reception or meal that often follows a wedding ….however, while wedding photos are being taken around the grounds, or the kids explore the fairy grotto, a congratulatory glass of bubbles and nibbles can be arranged for your guests for a small extra fee.  The presence of farm animals; a cat, dog, assorted chickens, ducks, doves and/or sheep may be in your photos. (Their presence is free of charge).
I can recommend some lovely restaurants in the Kumeu area for the reception, or why not follow your ceremony with a picnic at one of West Auckland's fine beaches or parks.
My aim is to have everything arranged so your day is as easy as possible.
So why wouldn't you take the stress out of your day and have your ceremony at beautiful 'Casabella'. We would love to share your special day with you.
If you would to discuss more or arrange a visit, just give me a call – Peta (+64 9) 412 2575