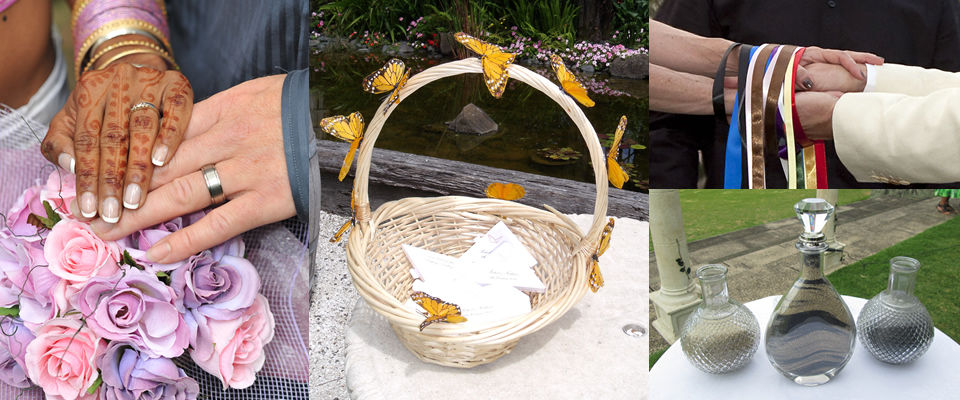 Other Ceremonies
A ceremony is often a way of celebrating a special occasion with the important people in our lives.
In the busy times we live in, ceremonies can provide us with a time of reflection and appreciation of life's special events. They can be immensely empowering and are always memorable.
I am available to plan and provide an individualised ceremony to celebrate your special occasion. I aim to provide you with a memorable ceremony that reflects your personality and life values. In close consultation with you, I will help you design a unique and personalised ceremony, that meets your particular needs and fits any theme you may have.
Civil Unions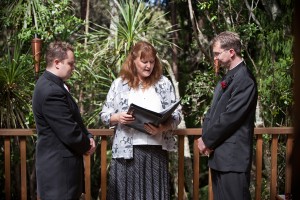 A Civil Union is a very special event signifying a commitment of a couple (either gay or straight) to share their future together.
The legislation in 2005 enabling Civil Unions in New Zealand was a great step towards a more inclusive society. In April 2013  NZ was the 13th country in the world to allow same sex couples  to marry – giving many of us yet another reason to be proud Kiwis.
Some couples may still choose a Civil Union over a Marriage. Why? The couples who have opted for a Civil Union (slightly under half of the ones I have done have been same sex couples) have usually chosen them because it fits with their beliefs of being more modern. Some talk about the history of marriage being quite old fashioned and tied closely with the church. Ultimately the choice is up to the couple. The legal rights and obligations are the same for both civil unions and marriages.
In deciding to enter a Civil Union, there are certain legalities that you will need to fulfil, but as with marriages there are few 'musts' in a civil union ceremony. You have a great amount of choice when it comes to designing your ceremony. Visit marriages.services.govt.nz for full information on Civil Unions and licence requirements.
As a registered Civil Union celebrant, I'm able to solemnise Civil Unions in NZ.
As with any ceremonies I am involved in, my aim is to listen to what you want, guide you if necessary, support you in getting the ceremony you desire and to create wonderful memories of your special day.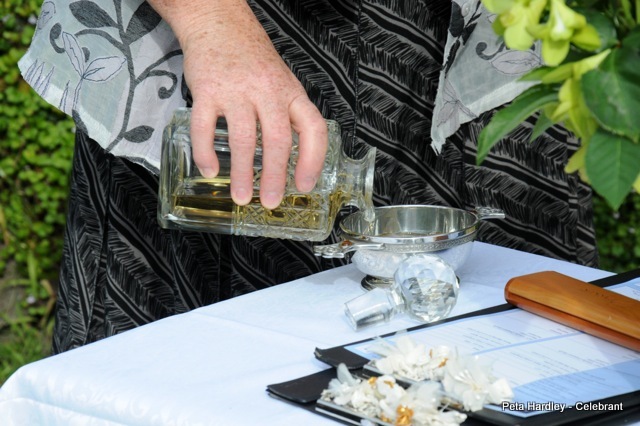 I will meet with the two of you at my home in Kumeu to design a ceremony that truly reflects your personalities, beliefs and values. You may like to add ceremony elements such as a candle, sand, rose or hand fasting ceremony, or a symbolic activity such as planting a tree, releasing doves or blowing bubbles. It is completely up to you!
It is great to include some personal stories such as how you met and share the special qualities you see in each other. If distance is an issue, ceremony planning can be done by email or contacting me.
If you are yet to organise a ceremony venue, I have a Private Ceremony Venue in a garden area at my country home, which is available for a small additional fee. It is suitable for small-medium sized ceremonies (up to 35 people).  See my 'Casabella as a venue' page.
I can also provide witnesses if you are 'eloping' or are having a private ceremony with no guests.
I will support and encourage you to find the words you wish to share on your special day.
I warmly welcome your enquiry.
Naming Ceremonies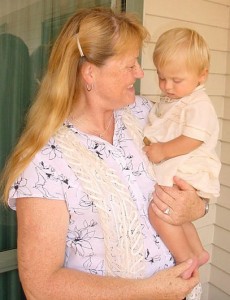 A naming ceremony honours a child and affirms the special place they have in our lives.
A naming ceremony provides the opportunity to celebrate the arrival of a child and officially welcome them in to the loving bonds of their community of family and friends, as well as to formally bestow their name.
Other aspects of a naming ceremony may be to honour Grandparents and family members (past and present) and to appoint Mentors/Guardians. If there are older siblings, they are always included.
A naming ceremony often replaces traditional religious ceremonies such as Christenings and is suitable for newborns, toddlers, older children, adoptions, or even to mark the occasion of an adult's change of name.
Incorporated in the ceremony, is often the story of the child's life to date and your hopes and dreams for their future. It can also incorporate any special family or cultural traditions.
Often there is some form of symbolic activity, be it planting a tree, lighting a candle, releasing balloons or blowing bubbles.
I also provide a naming certificate on the day which can be signed by the parents and Guardians/Godparents/Mentors.
Food, fun and laughter invariably follow the ceremony.
Examples of Other Ceremonies: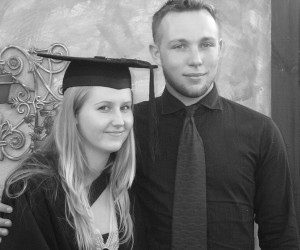 Renewal of Vows
Anniversaries
Home/House Blessings
Celebrating a significant birthday
Graduation
Retirement
Any occasion for a celebration