About Me
Profile
I'm a great fan of weddings and family celebrations… but I guess you'd expect that from a bubbly, happily married, mother of 3 delicious adult children and 3 gorgeous grandchildren.
I have grown up in West Auckland, New Zealand and am proud to call myself a 'Westie' (although technically I'm probably a Nor Westie, since moving to Kumeu)
I feel extremely fortunate to now be living the 'Kiwi dream' by living on 10 acres in fabulous Kumeu, known as 'Wedding and Wine Country' (along with my lovely husband – Ian). We're close to wonderful vineyards, and just a stone's throw from stunning Muriwai beach… And yes, I can host a wedding ceremony here at my home -'Casabella'  Casabella as a venue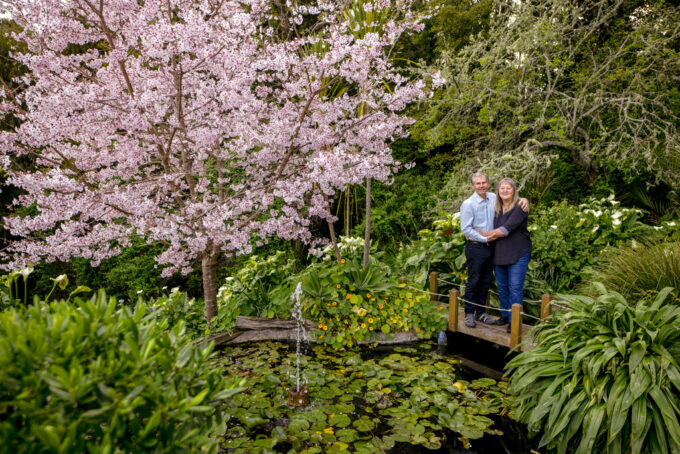 I've worked much of my adult life as a nurse, specialising in the area of mental health and addictions. I've also been involved in a lot of voluntary work in the community over a number of years, so I relate well to people of different ages, cultures and spiritual beliefs….. plus, I'm a really good listener, which is really important in a Celebrant.
Following a long held passion, I completed a Certificate in Celebrant Studies at the Auckland University of Technology in 2000. I bring my nursing, community and whanau (family) experiences to my celebrancy work as a registered civil union and marriage celebrant. I'm a proud member of the Celebrants Association of NZ (CANZ) and I'm a validated celebrant. As a member of CANZ I'm bound by a code of ethics and professional standards… oh yes, and I'm also fully vaccinated for Covid 19.
I know wedding planning can be stressful, so who wouldn't want the planning of your ceremony to be an easy and fun experience. I have a commitment to designing a personalised ceremony for you and to deliver it with a warm friendly style. My aim is to support you in getting the ceremony you desire and to create wonderful memories on your special day.
Contact me to discuss your special day!
Testimonials
Not that I like to brag, but here are some kind word from my customers about my work:
"Peta, I would like to take this opportunity to thank you sincerely for the outstanding ceremony you put forward for our special day. It was fantastic. I would highly recommend your services to family and friends."
– Helen & Paul

"Hi Peta. I just wanted to say a huge thank you for making our day what it was. Reading through the ceremony made cry and laugh and remember that I felt the happiest I have ever been while standing by my husband.
A big part of that was down to you and the way you perfectly matched our personalities, and portrayed the love we have for each other, it was almost as if you had been in our lives forever.
Casabella is such a beautiful venue. I  especially loved the pictures of our kids in your fairy garden, which they loved.
I couldn't have imagined getting married anywhere else."
– Leah and Aaron 

"Dear Peta,  Just to say Thank you Thank you, for such a wonderful day. You were wonderful! We had such a special day which you made for us, we couldn't have done it without you.
So many of our friends complimented you after the ceremony 'What a wonderful choice of celebrant'. We knew we made the right choice from the moment we saw you on your website and then when we met you in person. So our heartfelt thanks to you. We are still walking on air!"
Much Love  – Paul and Matt
"Hi Peta, We would like to sincerely thank you for helping us make our special day a memorable one. Your involvement and commitment to us was fantastic.  The day went off extremely well and the sand ceremony was amazing. All our guests commented on how they loved it.
The ceremony was as relaxed, casual and personal as we wanted.Thank you so much for going out of your way and making our day special.   We couldn't of asked for anything better. The smiles on our faces say it all."
– Raewyn & Shane

"Hello Peta, I just wanted to say a big thank you for the ceremony yesterday, it all went so well and we have had many compliments today! One particular comment was how beautifully you ran the proceedings – very relaxed and well spoken!"
– Irini, Martin & James
"Dear Peta, Thank you for officiating our wedding ceremony at Arataki. We appreciated your warmth and graciousness which did much to add to the spirit of the occasion…Best wishes."
– Vivian and Charlie
"…..We absolutely loved our day and you were a big contribution to that. You were incredibly reassuring and led the whole day just perfectly – we couldn't have asked for more.
We got so many lovely comments about you from our guests too.  You've made the whole process easy and fun so just wanted to pass on our sincerest thanks and our best wishes for the upcoming year. "
– Kat and Sarah