One of the things I love about what I do is meeting a diverse range of couples. They all come from different backgrounds and cultures, are of varied ages and stages in their lives. All have different needs, desires (and budgets) when it comes to planning their wedding ceremony – Small and intimate, casual and fun, family oriented, grand and formal.  Each is unique and each is wonderful. Here are some of my recent couples that I have had the real pleasure of being part of their special day.
 Lahn and Keith – married in an intimate ceremony in Laingholm, at the home of their good friends (and mine) Robert, Angelika and Hannah.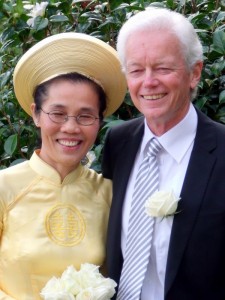 Kimberley and Shaun – married at the ever beautiful Markovina Estate in Kumeu. (Photos are from the best photographers in the business, Amber and Isaac de Reus of Perspectives Photography)
Miho and Bevan at the stunning Settlers Country Lodge. This ceremony incorporated  a Daruma – a Japanese Wishing Doll. Having the services of a Japanese interpreter for Miho's parents and arranged by Bevan's Mum, was a lovely touch
Wyndi and Eli married at the Titirangi Soldiers Church and were supported by their 4 handsome young sons. Their eldest son, multi talented Romero, did a reading in Maori, Samoan and English – Very special!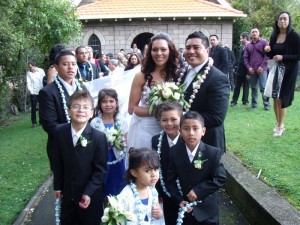 Raewyn and Shane married at Butterfly Creek. They incorporated a lovely sand ceremony with different colours for them and their 5 beautiful children.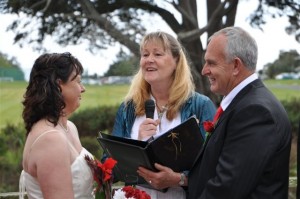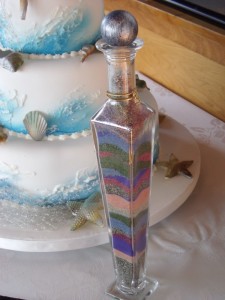 Judy (aka Yun Ting) and James chose the steps of the gorgeous Alberton House for their fabulously unique and fun ceremony. Of all the special moments, I have to say that James (resplendent in a top hat) serenading Judy as she entered on his baritone ukulele was  just wonderful.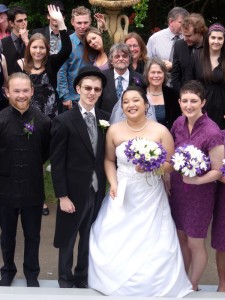 Lilly (aka Lalita) and Daniel travelled thousands of miles from the UK to marry at the beautiful and popular Gracehill Vineyard Estate, supported by their family and friends.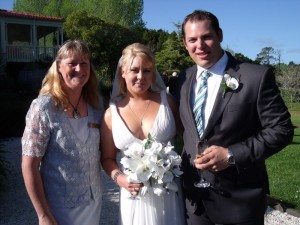 Just this weekend I was back at Gracehill Vineyard Estate, to  marry Aimee and Jason. Fabulous weather for a fabulous couple!
I am indeed fortunate to be part of these wonderful events.